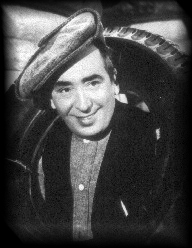 El hermano José


Kilómetro 111


Maestro Levita
And Others ...
Pepe Arias (Juan Pablo Arias)
Was born in Buenos Aires, in 1900 - and passed way in Buenos Aires too, in 1967.
Attended two years to the Navy School, but he was fired dut to "the lack of skills". Stood for the first time in a stage in 1916, at the Exelsior, when he belonged to the De Rosas - Aranaz - Arata company. He payed theater plays up to 1966.
Since 1934 worked in the radio saying his speeches. He appeared at the Stentor, Belgrano, El Mundo, Splendid, en la Argentina, and in Montevideo.
He started in the cinema with Tango!. Among other titles, the main ones are: Maestro Levita, Kilómetro 111, El profesor Cero, La guerra la gano yo, Fúlmine.