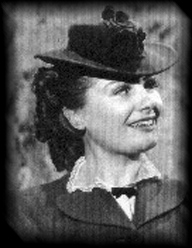 Cándida


Yo quiero ser Bataclana


Orquesta de señoritas
And Others ...
Nini marshall (María Esther Traverso)
Was born in Buenos Aires, in 1903 .
She worked making cartoons and comic illustrations in the magazine "Sintonía", which allowed her entering into the radio. There she started as an international singer, since she had a very nice voice.
She sang in five languages and in the intervals, she played short comic plays. In 1933 made fun of about daily news in the dial, by the nickname "Mitzy" at "Alfilerazos"- section of the program. Nini became a big succesat the radio working in Fenix, Municipal and El Mundo. Manuel Romero took her to the cinema world and started in Mujeres que trabajan, where she played her famous character "Catita". The succes she gained in the radio, reached the cinema, and she became the most famous comic actress of the Spanish language. She filmed Cándida for the EFA, inicializing a long list of movies that had that character in the main role: Los celos de Cándida y Cándida millonaria. Catita was also the line of several films such as Yo quiero ser bataclana and Mujeres que bailan.
With Amadori, she made many comic films: Carmen and Madame Sans Gene, among others .
In 1985 presented her autobiography named "Mis memo-rias". Roled many specials for TV.