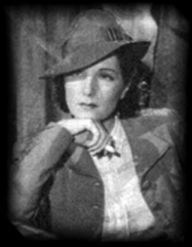 Besos Brujos


Madreselva


Cita en la Frontera
And Others ...
Libertad Lamarque
Born in Santa Fe, in 1909.
She began as a theater actress when she was only seventeen years old, with the National Theater Group. In 1927 she obtained her first success as a tango singer. With the appearance of sound movies, her career developed quickly. She played in Tango!, and became into a movie star with Ayúdame a vivir, whose script was written by her.
After the movie Yo conocí a esa mujer, she was hired exclussively by San Miguel studios, for five years. During the filming of La cabalgata del circo- with Hugo del Carril - she had a few disagreements with the actress Eva Duarte, future first lady of the country.
With the arrival of the Peronism to the goverment (1946), she left for Mexico where she settled down and gained even more fame than she achieved in Argentina. There, she worked there in thirty movies, as well as appearing in TV and theaters.
In her last years, she restarted her personal shows in theaters of Latin America, with huge success.