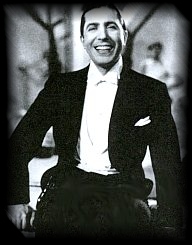 El Día que me quieras


Tango Bar


Cuesta Abajo
And Others...
Carlos Gardel (Charles Romuald Gardés)
He was born in France in 1890, and died in Colombia in 1935.
His mother went to Argentina when the child was only four years old, and decided to settle down there. The 'Abasto' was the central meeting place of singers, musicians and poets. In his youth, he was known for singing in several places of the zone and was renamed "el Morocho". Initially, he was part of a four person group. Later the duet Gardel-Razzano appeared at the most traditional theaters of Buenos Aires. Their success was immediate and progressed to the National Theater in 1914. In 1930, Gardel was involved in several short musicals films directed by Eduardo Morera. He ultimately gained success and fame performing in the films Luces de Buenos Aires, Melodías de Arrabal, Cuesta abajo, El tango en Broadway, El día que me quieras and Tango bar.
His movies were shown all over the world. In the midst of the success, an accident at Medellín airport took his life away. After that, he was remembered in many movies, such us La vida de Carlos Gardel, with Hugo del Carril.